Victoria and Alfred (V&A) Waterfront Cape Town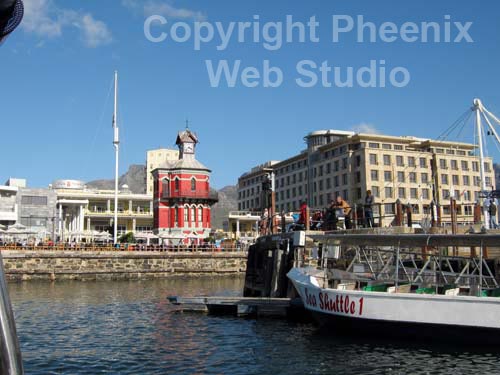 The Victoria and Alfred Waterfront is situated at the foot of Table Mountain, in the heart of the harbour. Starting as a small jetty built by Jan van Riebeeck in 1654, the V&A Waterfront we know today has truly been one of the attractions in the Western Cape that has always been part of it Cape Town's heartbeat.
As one of Cape Town's biggest tourist attractions, the Waterfront offers tourists and shoppers much charm and things to do. A harbour tour will take you around the Waterfront and point out some of the buildings and sites. Be sure to keep an eye out for the seals that love to frequent the harbour.
Various historical sites are found at the V&A Waterfront:
The Alfred Mall and Victoria & Alfred Hotel
Built in 1904, the North Quay Warehouse was used in turn as a coal store, Union Castle Shipping Company Warehouse, and a customs baggage store.
Breakwater Prison
The original Breakwater Prison was construction in 1860 to house the convicts working on the breakwater.
Chavonnes Battery
Built in 1714-1725 by the Dutch East India Company, the Chavonnes Battery was designed to help protect the Cape, together with Fort Knokke and the Amsterdam Battery.
Visit our review of the Chavonnes Cannon Battery.
Harbour Cafe 1903
The first restaurant in Cape Town's harbour opened its door in 1903
Port Captain's Building
Port control moved from the Clock Tower to the Port Captain's Building when it was opened in 1904.
Robben Island Embarkation Building
At the end of Quay 5 on Jetty 1 is the embarkation building for prisoners sent to Robben Island.
Visit our review of the Robben Island Museum
Robinson Dry Dock
The Robinson Dry Dock, the oldest operating dock of its kind in the world dates back to 1882.
The Clock Tower
The Victorian Gothic style structure was the original Port Captains office.
Visit our review of the Clock Tower.
Time Ball Tower
The Time Ball is a signaling device in which a ball is dropped at a given time in order for ship masters to determine the error and rate of their chronometers whilst in the harbour
For more info and photographs of the historical sites in the V&A Waterfront, visit http://www.waterfront.co.za/home/history/pages/history_historicalsites.aspx