Kruger National Park (South Africa)
Quick overview of the Kruger National Park
The Kruger National Park is one of the largest game reserves in Africa, and covers 18,989 square kilometers, and extends 360 kilometers from North to South, and 65 kilometers from East West. The Kruger National Park is bordered by two South African provinces, Limpopo and Mpumalanga. Nine gates provide access to the different camps:
Paul Kruger Gate
Numbi Gate
Malelane Gate
Crocodile Bridge Gate
Punda Maria Gate
Orpen Gate
Phalaborwa Gate
Phabeni Gate
Pafuri Gate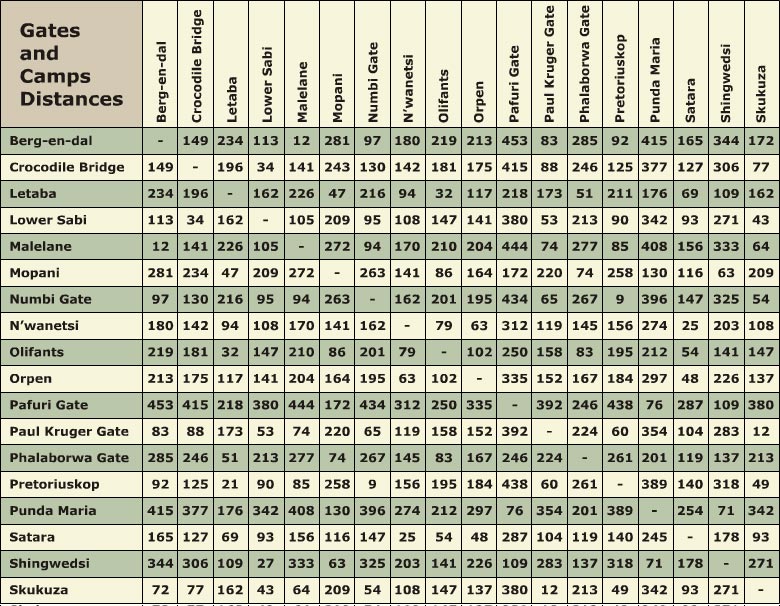 Downloads
Cultural Heritage Sites in the Kruger National Park
The Kruger National Park is home to numerous historic locations and rock art sites. Some of the more famous sites include:
Thulamela Hill
Here, archeologists discovered the first artifacts that could provide some insight into the history of South Africa. The archeologists also discovered the remains of a Late Iron Age settlement, and various other artifacts like gold beads, ostrich-shell beads, metal rings and charcoal. Carbon dating indicated this site to have been inhabitated from the 15th to mid 17th century.
Masorini Heritage Site
Unlike Thulamela, the village of Masorini is not that old, as artifacts and ruins found here date back to the early 1900's. Masorini is located about 11km from the Phalaborwa gate, on the road to the Letaba camp.
Other interesting historic sites include the Albasini ruins, Skukuza Hut museum, Stevenson-Hamilton memorial library and the Dog's Graveyard, also known as Little Heroes Acres.
View a map of the Historical sites in the Kruger National Park
Regions of the Kruger National Park
Far North Region
Location
South from the Limpopo River
Vegetation
This region is dominated by Mopane trees.
Landscape
The region is mostly arid and flat, with zones where higher localized rainfall giving rise to the formation of dense Mopane groves
Game Viewing
Nyala, Sable, Eland, Buffalo, Elephant, Lion, Cheetah, Leopard
Northern Region
Location
Ranging southwards from Capricorn to the Olifants River, east from the Lebombo mountains
Vegetation
Smaller trees such as Leadwood, Apple Leaf, Jackalberry and Nyala Trees
Landscape
Sparse, isolated hills, rich in pre-historic artifacts
Game Viewing
Elephant, Zebra, Buffalo, Tsessebe, Ostrich
Central Region
Location
The Sabi river is on the South, and the Olifants river on the North of this region
Vegetation & Landscape
Grassy plains
Game Viewing
This region has the most rich game of the four regions. Zebra, Girafffe, Wildebeest, Lion, Cheetah, Leopard, Rhino, Sable, Buffalo, Eland, Wild Dogs
Southern Region
Location
Between Sabi and the Crocodile rivers
Vegetation
Densely vegetated with Marula, Leadwood and Acacia trees
Game Viewing
This region is Lion country, and has the greatest Rhino Population. The high density of vegetation makes game viewing difficult, but has the best changes of seeing Black and White Rhinos