Pretoria Tourist Attractions and Things To Do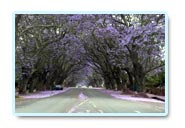 Pretoria is located in the Northern part of the Gauteng Province, and is one of South Africa's three capital cities, serving as the executive or administrative capital, and the de facto national capital. Pretoria is contained within the City of Tshwane Metropolitan Municipality. Pretoria's original name was Pretoria Philadelphia, which means "Pretoria of Brotherly Love".
Pretoria was founded in 1855 by Marthinus Pretorius, one of the leaders of the Voortrekkers, who named it after his father Andries Pretorius. Pretoria has always been an object of desire during war times, and a number of forts are built throughout the city.
Pretoria has a moderately dry subtropical climate, with long hot and rainy summers and short, cool and dry winters. Snowfall is an extremely rare event in Pretoria, occurring once or twice every century.
Due to it's rich history, Pretoria has several museums which culture buffs will enjoy tremendously. A large number of historic houses can also be found in Pretoria.
Top Pretoria Tourist Attractions
Top Groenkloof Attractions