Mpumalanga Tourist Attractions and Things To Do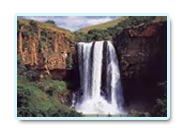 Formerly known as the "Eastern Transvaal", Mpumalanga literally means "the place where the sun rises" in Swazi, Xhosa, Ndebele and Zulu. Mpumalanga offers much for visitors, and all are delighted by its magnificent scenery, fauna and flora.
Mpumalanga is also the place where the saga of the 1870's gold rush era can still be felt, and many fascinating tribal legends are still told.
The Drakensberg Escarpment divides Mpumalanga into a westerly half consisting of mainly high-altitude grassland, called the Highveld, and an eastern half, aptly called the Lowveld or Bushveld, seeing as it is situated in low altitude subtropical, mostly savanna habitat.
Apart from all the other splendors of Mpumalanga, a great drawing point for visitors is the Kruger National Park, of which the southern half is situated in Mpumalanga. Mpumalanga also offers visitors a quick gateway to Swaziland, with all four districts of Swaziland bordering in Mpumalanga.
Top Mpumalanga Tourist Attractions