Pilanesberg Tourist Attractions and Things To Do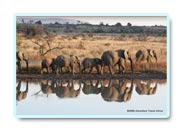 The fourth largest national park in South Africa, Pilanesberg National Park is situated in the crater of an extinct volcano that covers an estimated 55,000 hectares. Pilanesberg National Park is ideally situated in a malaria free environment, and offers visitors the opportunity of viewing the Big Five and a wide variety of birds.
Pilanesberg National Park is located in the North West Province, and borders the entertainment complex Sun City. Pilanesberg was named after a Tshwane chief, Chief Pilane, and the area is fringed by three concentric ridges or rings of hills. Pilanesberg is one of the largest volcanic complexes of its type in the world, and the rare rock types and formations found in the Pilanesberg National Park makes it quite an unique geological feature.
Pilanesberg also has its own airport, the Pilanesberg International Airport, which provides visitors quick and easy access to the various attractions found around the Pilanesberg National Park.
Top Pilanesberg Tourist Attractions