Cape Town Tourist Attractions and Things To Do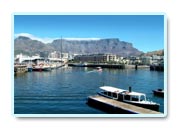 Cape Town is the city in South Africa with the second most number of residents. The largest in land area, Cape Town forms part of the City of Cape Town Metropolitan municipality. Cape Town is also the capital of the Western Cape, and the legislative capital of South Africa.
Cape Town is famous for its harbour, as well as the magnificent Cape floral kingdom, which includes landmarks such as Table Mountain and Cape Point. Cape Town is South Africa's most popular tourist destination.
Cape Town has a rich history, being first mentioned by Portuguese explorer Bartholomeu Dias in 1486. Unfortunately little is known of the first residents, since no written history from the area was found. The area did not have any regular contact with Europeans, until 1652, when Jan van Riebeeck were sent to the Cape to establish a way-station for ships traveling to the Dutch East Indies. Jan van Riebeeck also established the Fort de Goede Hoop, which was later replaced by the Castle of Good Hope.
The Cape Peninsula has a Subtropical Mediterranean climate, with mild, wet winters, and dry, very warm summers. Cape Town get frequent strong winds from the south-east in the summer. These winds are known locally as the Cape Doctor, since the winds aid in blowing away pollution and cleaning the air.
Top Cape Town Tourist Attractions